How far in a day?
I roughly go between 40 and 100 miles per day. This depending on on where I am planning to stop for the night. Also conditions such as headwinds make a big difference. Sometimes the trip becomes so interesting that there are many stops along the way. Road conditions, hills and availability of camping spots in an area have influences on the distances I travel each day.

---
How much does it cost? Where do you stay?
It varies a lot. I spent around $2,000 to cross the USA in 9 weeks. Some people just camp out in the woods for free. This can reduce costs significantly. I paid more and stayed in campgrounds most of the time. Sometimes I splurged on a motel.
Many state parks, and so forth, offer special discounts for bike tourists. Ask about the "hiker/biker," or "primitive sites." Some areas have hostels that encourage cyclists as well.
Other expenses include:
Film (I wrote this a while ago. Most photo is digital now.)
Food
Bike repairs and parts
Sunscreen
Cost of the return trip, if needed.
Biggest cost may be time. One can fly across US in one day for only the cost of a plane ticket. The bike takes more time and the expenses associated with living for that duration.
Unlike backpacking, one needn't take everything from the start. Most bike touring is along roads where civilization can rejuvenate one with its Laundromats, grocery stores, restaurants, bike shops, hair salons, bank machines and so forth.
My camping style along side the style of others.
---
Where do you get bike touring maps?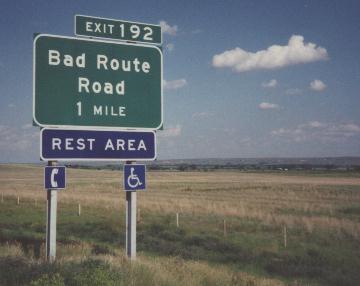 Exit sign in eastern Montana.
These days, I usually use Google Directions. One can set it for bicycling.
There are several bike tour organizations such as Adventure Cycling Association, based in Missoula, Montana. Groups like these publish special maps, but I often find a regular highway map is best of all.
The special bike maps can be expensive and only show one recommended route. Spreading out an official highway map of the entire state can provide the "big picture."
There are many bike path and local area maps from places like park departments. Much of the information is in little pieces.
There are lots of good campground guides for different areas. Before I left, I went to the library and looked at the Allstate Insurance Company campground guide. They published an atlas listing for in each state. I Xeroxed some map pages out of that big book and could see where campgrounds were clustered at least. Much of the best information, I picked up en route. These days, online research is best.
---
Do you worry about crime or your bike being stolen?
So far, I haven't had problems. Depending on the areas you visit, being on the road seems as safe as going out around home. It is good to use common sense. Books on bike touring will often say that traffic is the biggest hazard.
Remembering to lock the bike is a good idea. Things I use are not too expensive so they are less of a target.
Maybe the best security system is dirty socks, often visible around the outside of the bike. When bikes look trashy, people avoid them.
If I do have more expensive things, like a camera or radio, I hide them deep inside undesirable looking stuff. Other times, I take the more expensive things with me when leaving the bike.
Usually I don't go far from my bike, often visiting places with a window view of where it is parked.
Locking things into a motel room, or friend's house, helps when visiting a city. Then one is free to walk and use public transit.
So far, my well used tent and sleeping bag has not disappeared from campsites when I go into town. Some campgrounds even provide locked storage space.
When hiking a trail, it is good to park away from the trail head. Pushing the bike through woods to hide it is good. Just remember where you left it. You can hide it from yourself as well.

What to do after a bicycle crash in Washington State
Article submitted by a reader


Send questions to me. I answer personal mail.